About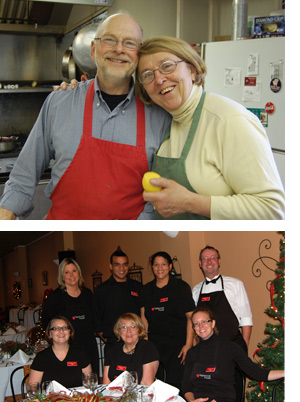 In 1999...
I founded Applewood Foods Catering, in Danville, Illinois, to explore the business side of cooking. My oldest son had graduated from Le Cordon Bleu College of Culinary Arts in Scottsdale, Arizona, and with his counseling, I felt the time was right to try my hand. It is no surprise that I ended up in the food business, all of my life I have been surrounded by good cooks. My grandmother, mother, sister, mother-in-law, wife, and sons have all had their influence. My mother loved to cook and passed on to me a certain ability and comfort in the kitchen. In turn, my wife, Cynthia, and our four children have provided me with a family that honors the important place of food in our lives and in particular, in our kitchen. Cynthia is an integral part of the business. She is chef, server, book keeper and creative idea generator. Perhaps it's the way in which we grew up as a family--mealtime was our time together and good food has always been the nucleus of family fun and get togethers. Everyone loves to eat and each has any number of specialty items they like to make. Their assistance and much needed encouragement have helped to make Applewood Foods Catering what it is today.
Our mission is to provide our customers with a combination of inspirational food at reasonable prices. Our accomplishments are many; seven course gourmet dinners for a few, corporate picnics for a 1000, themed parties, wedding receptions, brown bag lunches, breakfasts and dessert buffets are included in our repertoire. We are especially proud of our corporate events that have met with great success when used to honor anniversaries, recognitions, sales and safety goals, and company holiday meals.
Cooking is our passion and the satisfaction we see from our customers is our reward. Please use our menus as the starting point for any of the events you may be planning in the East Central Illinois & West Central Indiana area including: Danville, Champaign, Urbana, Covington, Georgetown, Mahomet, Monticello, Savoy, St. Joseph, & Rantoul, and know that we are creative and flexible. We can produce a function that will be remembered and enjoyed by your guests, employees, friends or family.
We look forward to working with you and sincerely appreciate your consideration.
Thomas J. Bookwalter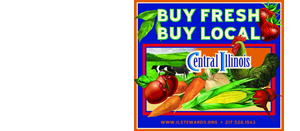 Buy Fresh Buy Local
Appplewood Foods is proud to be a member of Buy Fresh Buy Local. BFBL is a local foods campaign to encourage the community to support local farmers. This includes everyone from individual consumers to larger buyers, including restaurants and grocery stores. Through the BFBL campaign's marketing materials, consumers can identify locally produced foods and farmers can reach new local markets. Look for BFBL signage and tell your retailer or restaurant that you care where your food comes from.